04

Dec
December Update and A Christmas Wish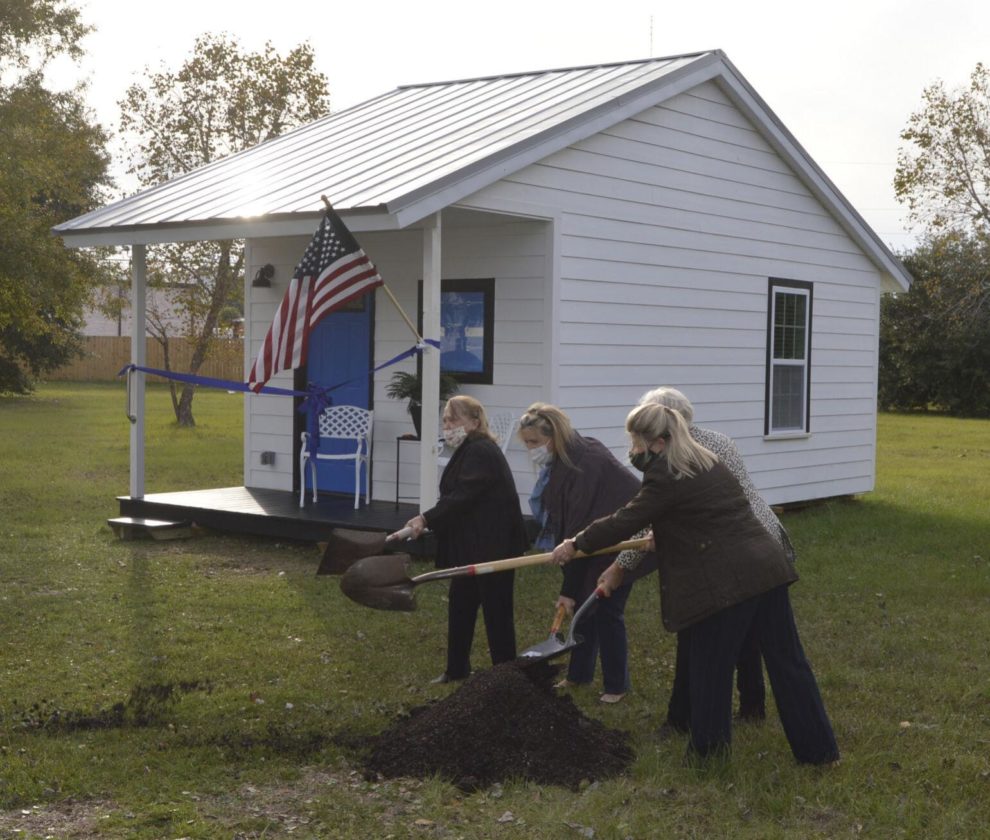 Despite the setback of the Corona Virus shutdown, we at Hand in Hand of Glynn have broken ground on our project to house the homeless! We are thrilled to be at this milestone! On Thursday, November 24, 2020 at 3:00 we had our groundbreaking at 4621 Altama Avenue! This image was taken by Alan Dyer, Pastor of The St Simons Presbyterian Church. All our friends and donors were totally dazzled by this solar display during the ceremony! Anne Stembler, President of Hand in Hand of Glynn, introduced Alan Dyer, Pastor of St Simons Presbyterian Church, who gave the Invocation. Anne then welcomed the crowd and recognized some of our significant supporters in the Brunswick Community:
Mayor Cornell Harvey
Reverend Jeffery Muchison and his wife Sandra
Commissioner Allen Booker and his wife, Vanessa
Commissioner Johnnie Cason
Mayor pro-tem Julie Martin
Brunswick Police Chief Kevin Jones,
Committeeman William Kitts
Fire Chief Tim White
Building Inspector Paul Kersey
Joint Water Sewer Tim Ransom
Anne further recognized the significant donations of Pete and Ada Lee Correll; Craig and Elsa Donohue; Betty and Jack Moore; Martha Merritt; Barbara and Keith Weikel, Jim and Ann Nicholson; and Bill Stembler. Anne recognized Synovus Bank and asked Diana Murphy to say a few words on behalf of Synovus. Diana recognized how significant this effort is on the part of Hand in Hand of Glynn and how proud Synovus is to be a partner in this undertaking.
Anne then reviewed the accomplishments of Hand in Hand of Glynn to date: In February, purchasing the 4.25 acre property for $1,175,000.
Taking down the sanctuary while leaving the remainder as the basis of our future Community Center.
Putting a new roof and soffits on our soon-to-be Community Center (old Sunday school building)
Constructing a beautiful fence around 3/4 of the property to give privacy to our residents and neighbors
Building our wonderful 240-square-foot model tiny home!
Raising over $3,200,000 to date with about $1.5 million more needed to complete the project.
Hand in Hand of Glynn has 24 people who have each bought one or more homes for $30,000.
Hand in Hand of Glynn of Glynn has a total of 398 individual donors to date.
Anne introduced Linda Heagy, Treasurer of Hand in Hand of Glynn. Linda commented on the need to do something about homelessness, particularly the need in Brunswick. She recognized the many entities here who are doing work with the Homeless of Glynn County. Linda also noted the geographic dispersion across the U.S. of the 400 donors to Hand in Hand of Glynn and asked why, when they aren't even residents, have they given to a project in Brunswick, Ga.
"Because what we are doing HERE catches the imagination. It says Homelessness in America, the wealthiest country on earth, is not an intractable problem. And what we do here for 60 can be done in other places for 600 or 6,000."
Stembler closed the ceremony by inviting everyone present to tour the model tiny home. This Christmas our message is simple: Together we can do something about homelessness! Consider a gift the whole family can understand and feel proud of. A home for someone who is without shelter. A room where residents can take life skill classes. A computer for our computer skills class. Please see our pledge card enclosed and help us help those in need.Together we can change the trajectory of 60 lives! We at Hand in Hand of Glynn wish you and your families good health and much happiness. God bless each of you for keeping in your heart all our neighbors who are experiencing homelessness.