06

Jul
Tiny home village work is nearly complete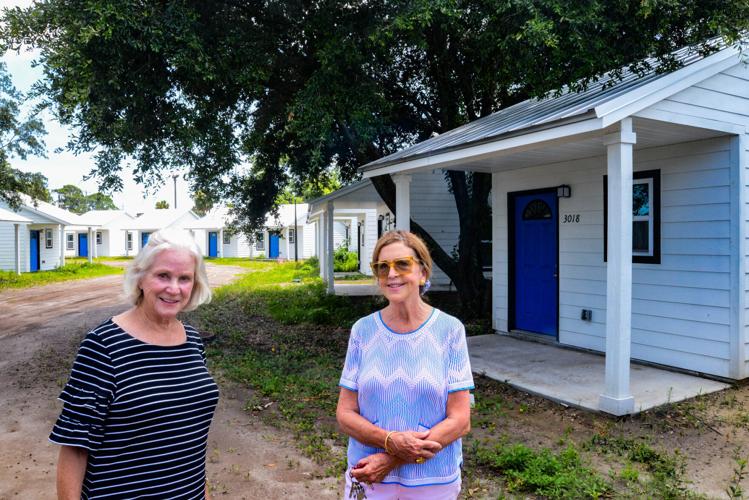 Work is ongoing at a tiny home village that will be occupied by 60 homeless people.
Linda Heagy, treasurer of Hand-in-Hand of Glynn, Inc., the nonprofit organization that is building the housing complex, said the first residents on the waiting list could be living in the new furnished homes within a month if the city can get the vouchers so the homes can be occupied.
All 60 homes at the site of the old Altama Presbyterian Church on Altama Avenue have been erected on site and 24 of them are already fully furnished.
The 240-square-foot homes have a 12- by 8-foot front porch complete with outdoor chairs.
The interiors of the homes are efficiently designed to maximize the use of space with a two-burner stove, toaster oven, microwave, shelf space and granite counter tops in the kitchen, a bathroom with a shower and shelves, and main room with a bed, chair, lamps and more shelf space.
Heagy said the village will have five named streets, each with 12 homes with individual addresses.
"It's a big neighborhood," she said. "It will add to a sense of community."
There will be a guard building at the entrance of the gated community and a community center with all the amenities from a clinic and classrooms to laundry and a community room.
Five of the tiny homes are two feet wider and two feet longer to make them compliant with the Americans With Disabilities Act. The rooms are all large enough to allow a wheelchair to turn around, Heagy said. And the bathrooms will have the wall bars and the showers will have a seat for the occupants.
Heagy said the facility even has a room with new clothes for the occupants if they need them.
"It exceeds my expectations," Heagy said of the nearly completed village.
Residents will be required to do two hours of community service inside the complex performing a variety of tasks to help maintain the village. Those who volunteer more of their time will earn credits that can go toward paying for the washers and dryers in the laundry room or purchasing food from the village pantry, she said.
There will also be a community garden, where residents will have their own plots to plant their favorite fruits and vegetables.
Second Harvest has entered into a partnership to help provide fresh food and home supplies.
While nearly half the homes are furnished, there is still a need for furniture donations. Among the items sought are chairs that don't recline, night stands for storage and tall dressers with at least five drawers. Other needs include shampoo, conditioner, paper towels, toilet paper and other household supplies.
Cash donations are also sought. Go to handinhandofglynn.org to donate or for more information.
Brunswick News. July 6th, 2023. By Gordon Jackson.