05

May
Volunteers get work done at tiny home village for the homeless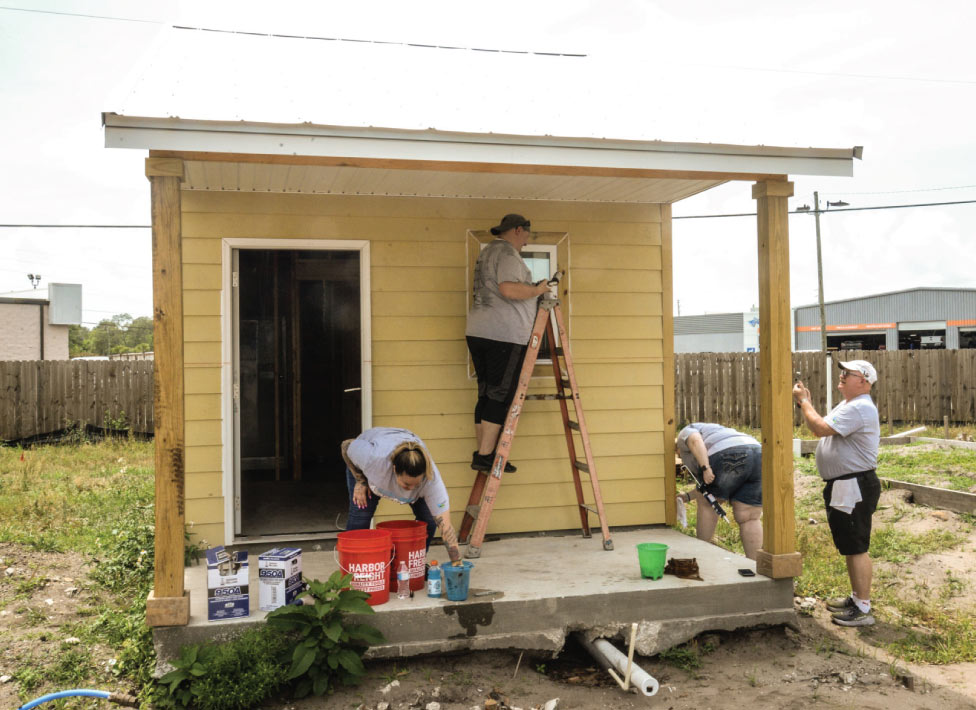 The numbers went up Tuesday on the doors of tiny houses on Altama Avenue that will soon offer stable housing to Glynn County's homeless.
Volunteers installed the numbers that will correspond to a post office on site, one of many amenities that Hand in Hand of Glynn will provide at its Grove at Correll Commons campus.
"Our post office is behind the community center," said Anne Stembler, chair of the board of trustees of Hand in Hand of Glynn, during a tour of the site.
A team of volunteers, all employees of the third party logistics company Legacy Supply Chain Services, were wrapping up lunch and returning to the full day's work they were there to complete.
The volunteers also helped with outdoor caulking, cleaned completed houses and moved furniture into them.
The Legacy leadership team arrived on Jekyll on Monday and will spend several days in the area. For years, the company has held this leadership retreat on Jekyll and has incorporated a service project into their visit.
"It's really just to get all the new leaders in our company just kind of grounded in our core values, in our culture, in our operating model," said Kyle Krug, director of marketing and strategy for Legacy. "And one of our core values is making a difference so this is obviously our opportunity to do that."
The company typically works with a different group each time they're in town. During their last trip, in 2019, they helped a family build their Habitat for Humanity home.
They're able to coordinate these trips through the United Way of Coastal Georgia's Volunteer Center, which connects companies and others who are looking for opportunities to engage and give back in a community.
"We are starting to see volunteers coming back out," said Janelle Harvey, director of community impact for United Way.
Krug said the volunteer work supporting Hand in Hand felt like a significant chance to give back.
"It's a chance to give back and get out of the work setting," he said. "It's a chance for us to get to know each other as well because we're bringing people in from Canada, California and all of our different operations across the country."
The Grove at Correll Commons campus is named for Pete Correll, who made a $1 million donation to the project and who has been one of many community donors supporting Hand in Hand of Glynn.
Hand in Hand of Glynn began the project in earnest in June 2019 and broke ground in December 2020. The campus will feature 60 tiny homes.
"If you follow the road around … you can see how it's going to look with the houses facing each other," Stembler said. "Everybody can sit on their porch, look at somebody next door, look at somebody across the road and have community."
The houses have spray foam insulation that keeps the interior quiet and cool on a hot day.
Specially ordered beds with drawer space beneath complement the other furniture inside each home provided by Hello Goodbuy in Brunswick.
The one-bedroom houses also include a bathroom and kitchen, both of which have doors. Each kitchen has a burner stove, small refrigerator, toaster, microwave and crockpot. Each house has eco-friendly and cost-saving features.
Every home will have artwork that residents choose when they move in and a handmade quilt sewn by quilting groups at the Lutheran Church on St. Simons and St. Simons Presbyterian.
"One group of ladies called and said, 'We like to quilt. We'd like to make a quilt for each of your houses,'" Stembler said. "And I said, 'Well that is the most lovely thing I've heard. Thank you. We have 60 houses going up.' Then another lady called me the next week, different church, and said, 'We'd like to make quilts.'"
Part of the community center has been renovated and includes a large common space, a kitchen, an office, classrooms and a laundry area.
The community center will also house a satellite office for Coastal Community Health Services, which plans to provide on-site health care to residents.
Hand in Hand is a model for the kind of organization that United Way is able to support as a partner agency, Harvey said. Their mission is intended to offer significant aid to the community's homeless.
"This is a population that is often overlooked and almost dehumanized, not given a sense of dignity and self-empowerment, and everything that (Hand in Hand) is doing is setting them up to humanize them," Harvey said.
Stembler said the residents will be able to stay in their homes as long as they wish as long as they abide by the contract they sign when they arrive.
A partnership with the Brunswick Housing Authority will allow the residents to put a specified portion of the income they have coming in toward rent. 
Lauren McDonald, The Brunswick News, GA